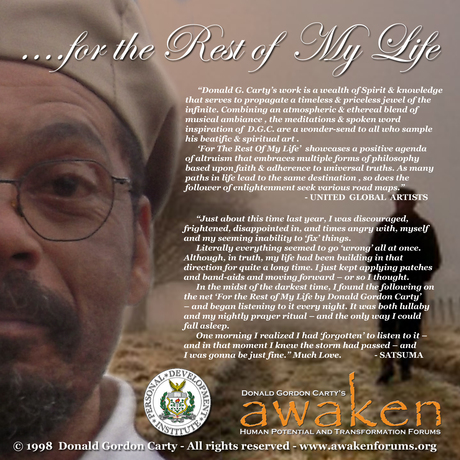 "...For The Rest Of My Life" showcases a positive agenda of altruism that embraces multiple forms of philosophy based upon faith & adherence to universal truths. As many paths in life lead to the same destination , so does the follower of enlightenment seek various road maps." - UNITED GLOBAL ARTISTS
From a Blog post by a Listener;
"Just about this time last year, I was discouraged, frightened, disappointed in, and times angry with, myself and my seeming inability to 'fix' things.

Literally everything seemed to go 'wrong' all at once. Although, in truth, my life had been building in that direction for quite a long time. I just kept applying patches and band-aids and moving forward – or so I thought.

In the midst of the darkest time, I found the following on the net 'For the Rest of My Life by Donald Gordon Carty' – and began listening to it every night. It was both lullaby and my nightly prayer ritual – and the only way I could fall asleep.
One morning I realized I had 'forgotten' to listen to it – and in that moment I knew the storm had passed – and I was gonna be just fine." Much Love. - SATSUMA